Invisalign clear Aligners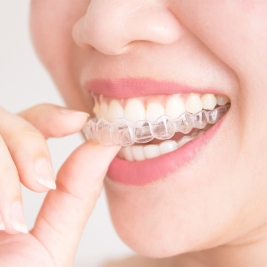 Get a smile that makes everyone attracted to you with Invisalign clear aligners.
Invisalign clear aligners or invisible braces are incredible options to straighten teeth alignment comfortably. These aligners are usually praised as 'invisible braces' due to their subtle appearance. This type of braces has a more subtle appearance than traditional braces which makes it one of the most popular methods of orthodontic treatment for adults.
If you are considering orthodontic treatment, getting Invisalign at Tooth n Care may be a good option. We are renowned for exceptional expertise in the implementation of Invisalign clear aligners in East Maitland, NSW.
How we make your smile more radiant
After precisely implementing the Invisalign on your teeth, we will switch to a new kit of aligners in your series regularly after every two weeks. With every switch, your teeth will be gradually shifting into the desired place. We'll assess you for regular progress by closely checking to ensure that the right adjustments are taking place.
At Tooth n Care, our dental experts always furnish them so precisely that you can show off your smile without anyone noticing that you're wearing your aligners. We are dedicated to improving your smile and making it more radiant.
If you need Invisalign Treatment for attaining the perfectly aligned teeth and a shiny smile, then visit Tooth n Care now, an outstanding destination for Invisalign Treatment for Straightening Teeth in East Maitland, NSW.
Call us now : 02 4933 4667
Make Appointment Online Book Online