Dentures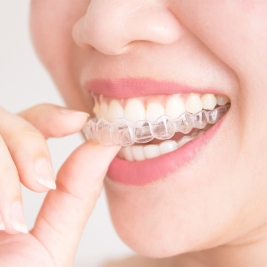 Dentures are artificial teeth that can be removed. If you have lost a few or all of your natural teeth, dentures can replace missing teeth and restore your smile to its former glory. Dentures also support your facial muscles, improving your smile and enhancing your chewing and speaking abilities. Unobtrusive and natural-looking, dentures can be matched in colour and appearance to your existing teeth, allowing you to go about your life without any unwanted attention. Get excellent denture treatment in East Maitland, NSW through Tooth n Care.
Tooth n Care offers flexible partial dentures services, which are a relatively new alternative to conventional partial dentures. Made from nylon-like materials (Valplast and Sunflex) or vinyl composite (Flexite and Ultraflex), these dentures do not require any metal clasps. Also, these are nearly unbreakable due to their nylon components. They are also more adjustable-friendly vis-à-vis acrylic or metal. Furthermore, they have a flexible base that easily adapts to the movement and flexibility in the mouth, leaving your original teeth free from any alteration.
If you are looking to avail denture treatment for yourself, book in with us at Tooth n Care for consultation.
Call us now : 02 4933 4667
Make Appointment Online Book Online