Mouthguards and splint in Metford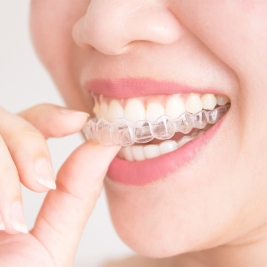 Chipped, broken teeth and lip lacerations are some of the most common sport-related injuries. If you or one of your children are active in sport, you can protect your smile with a mouthguard that is custom-fitted. At tooth and care, we provide this quick solution in just minutes. Anyone who participates in a sport is prone to a risk of contact to the face should wear a professional "custom fit mouth-guard" to prevent dental injuries from occurring or reducing the severity of them. We, at tooth and care, offer the best quality mouthguards and splints in Metford. If you suffer from teeth grinding or clenching (bruxism), our dentist may prescribe an occlusal splint to help you manage the problem. Splints are custom made and fit over either the upper or lower teeth, preventing the upper and lower teeth from touching and absorbing the impact of the grinding or clenching.
Features and types of mouthguards
A good mouth-guard available with us in Metford is
sufficiently thick in the correct areas
Resilient
well retained
comfortable, and
should not interfere with speaking and breathing.
Our custom made mouthguard is comfortable, provides you with maximum protection and saves you from extensive dental treatment, concussion and jaw injuries. It gives a better measure of protection for your teeth and mouth.
Individualised mouthguards benefits -
Improved comfort
Increased protection
The ability to speak or drink water without removing them
A secure, perfect fit for the length of your activity
Avail the best quality mouthguards in Metford
We offer a variety of colors and patterns in mouthguards in Metford for you to choose from. We are dedicated to providing the best possible prevention of dental sporting injuries and we provide custom fitted sports mouthguards to our patients in Metford. Our procedure of availing the best mouthguards typically requires 2 dentist appointments to receive a custom-made mouth-guard. During your 1st visit, our dentist takes an impression of your teeth, which is used to create a custom-made mouth-guard that allows for proper teeth alignment. During the 2nd visit, the patient gives the mouth-guard a test run and our dentist at tooth and care makes the necessary adjustments.
To make an appointment: Call us now 02 4933 4667
OR Make your booking online Book Online