Single Visit Crowns in Morpeth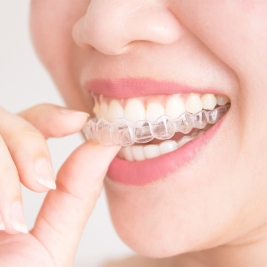 Dental crowns are needed for restoring fractured teeth, covering dental implants, strengthening root canal treated teeth and replacing discoloured teeth. Crowns give you a stronger, healthier and better-looking smile. It is a form of single visit dentistry. We, at tooth and care, offer the top notch single visit crown service in Morpeth.
When is a crown required?
With Heavily filled, weak or cracked teeth. Large fillings fill the void but don't reinforce the healthy tooth structure.
With Severely decayed teeth. If your nerve is still active, the priority is to protect it from further injury and exposure.
In Root filled with little remaining teeth. After you get a root canal it is vital to protect your tooth from breakage and reinfection.
Benefits of single visit crowns
We, at tooth and care, offer the top notch single visit crown service in Morpeth. Benefits are as follows -
One visit crowns are much more convenient
Leaves no need for ill fitted and -wearing temporary crown
The ceramic restoration is highly aesthetic
restorations can be custom stained and glazed in office
restorations have a comparable life expectancy to other dental restorations
Porcelain Restorations in Minutes!
Over the years, technology has been innovated and modified regularly to get the best dental results. Now, we have the ability to create porcelain restorations in the single appointment. Restoring a single tooth with its permanent porcelain restoration can now be done without extra efforts. The procedure of restoration starts the same way. The teeth are made numb and prepared. Instead of taking a mold, an image of the teeth is scanned using an LED camera. A computer then creates a 3D model of the teeth and a porcelain restoration is created using specially designed software. Once the crowning model is designed, the restoration is created in a separate machine in a matter of minutes. No second visits involved or needed for tooth crowning. Avail the supreme results with ease in areas of Morpeth! We offer the best one visit crown cost.
To make an appointment: Call us now 02 4933 4667
OR Make your booking online Book Online